STORM RADAR
Storm

radar

– your current and reliable forecast for severe weather
With our storm radar, you can quickly see whether you should expect severe weather in your region. No matter whether in the USA, Canada, Europe, or other countries: With our storm forecast and storm map you get information about the storm intensity (measured by rain intensity), the size, the number of occurring lightnings, and the direction of the storm front.
In this way, you can recognize at an early stage if you will be affected by an impending storm and protect yourself in time. Extreme weather situations are also occurring more and more frequently in the American region. These extreme weather conditions can be very dangerous for you and others. For this reason, the current storm forecast follows now:
Storm warnings are displayed according to severity with a yellow, orange, or red color.
Where is there a risk of severe weather? – How to read the storm radar: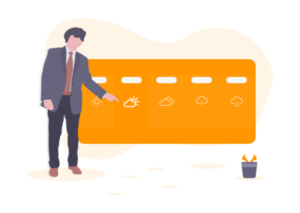 The intensity of the storm is shown on the map with different colors based on the current severe weather warnings. On our storm map, current severe weather areas are color-coded. The color spectrum ranges from yellow (weak severe weather warning or advance severe weather warning) to dark red (very strong severe weather). Thus, caution should be taken in dark red areas. If you do not see any coloring on the map, you normally do not have to expect severe weather.
Click on the cursor symbol on the map to trace the time course of the storm in the storm radar. This way you can see exactly how the storm has moved in the last few hours and if you are in the direction of the storm's path.
Storm tonight? – Sleep calmly from now on!
Surely you have already experienced a similar situation: You go to sleep in the evening and can hardly believe your eyes the next morning. A storm has raged overnight and left its trail of devastation in your garden or on your balcony. Due to your deep sleep, however, you have not noticed any of this. Thanks to our website, such unpleasant surprises are now no longer a problem.
Where are storms threatening? – How to read the storm map and interpret the storm forecast:
The storm radar informs you about impending severe weather in your area up to 48 hours in advance. These warnings (marked in yellow) signal an increased risk of severe weather, however, the intensity and spread of the storms are not yet exactly predictable. Only when an area turns orange, red, or purple (violet) there is an acute severe weather risk. In this case, action is required: immediately find a safe shelter and move your belongings that are outside to safety. This way, from now on, you will not be badly surprised by a storm at night.
By the way: If you want a detailed view of the different regions, just click on the maps of the severe weather center. You will then be immediately redirected to the homepage of the severe weather center. For forecasts on cloud cover and precipitation, simply use our cloud cover map and rain radar.
Storm radar – Not only severe weather can be dangerous!
In addition to a storm, strong wind, or a storm low without announced precipitation can quickly become a danger for you and your surroundings. To be prepared for an impending storm from now on, we offer you an overview of the current wind strengths and wind directions with our storm radar.
Where will it be windy? – This is how you read the storm radar:
The storm map displays the wind strength in km/h and the wind direction using dynamic white draft lines. The length and speed of these draft lines indicate the wind strength. You can also read the wind strength using the map coloring: While blue-green-colored areas cover speeds up to 35 km/h, red-purple-colored areas indicate high wind speeds (40 km/h and above). This way, our storm radar gives you an overview of the current wind speeds in different regions at any time.